SOS-0001 August 2022 – Part 1 – The Spreckels Organ / John D and Adolph Spreckels / Panama-California Exposition
August 2022 – Part 1 – The Spreckels Organ / John D and Adolph Spreckels / Panama-California Exposition
COPPER MAGAZINE / Frank Doris / Issues 154 and 155

Earlier this year, our own Gordon Stanley, Vice President for Spreckels Organ Society , had an opportunity to sit down with Frank Doris , Editor of Copper Magazine , to discuss the Spreckels Organ. The following text is taken directly from Mr. Doris's two-part January 2022 Copper Magazine series: The Spreckels Organ : A Historic Musical Treasure .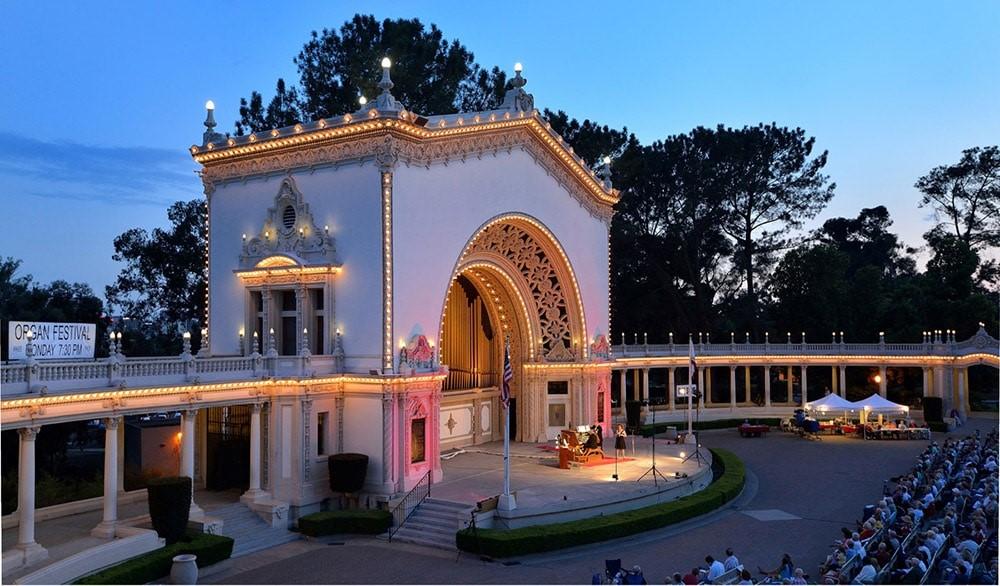 "The Spreckels Organ is a remarkable musical instrument: it is the world's largest pipe organ in an outdoor venue. It was built in 1914 in Balboa Park, San Diego, California, commissioned by John D. Spreckels and his brother Adolph B. Spreckels. It was dedicated on January 1, 1915 and is still in use today, carrying on a long-time tradition of performers on the organ providing free concerts to the public.
We spoke with Gordon Stanley, who has been involved with the care, curation and recording of the Spreckels Organ for many years.
Frank Doris: What is your role with respect to the Spreckels organ?
Gordon Stanley: I am one of three 'at-large' vice presidents of the Spreckels Organ Society . Our Mission is to preserve, protect and promote this truly irreplaceable 107-year-old instrument, built by the Austin Organ Company in 1914 and subsequently expanded by Lyle Blackinton and Associates.
Day to day, I use my 40-plus years of business experience, as a volunteer to chair the committee personnel, focus on fundraising, help with long-term strategy, and champion the constant need for succession planning. I also use my lifelong experiences in audio and media production in my role as volunteer chief audio engineer. Along with two other volunteers, we manage the FOH (front of house) sound whenever there are other musicians accompanying the organ, and we routinely record high-resolution double-rate DSD (DSD128) archival recordings of many of the concerts. The recordings are for our historic records, for the artist, and for use when we stream and replay special concerts.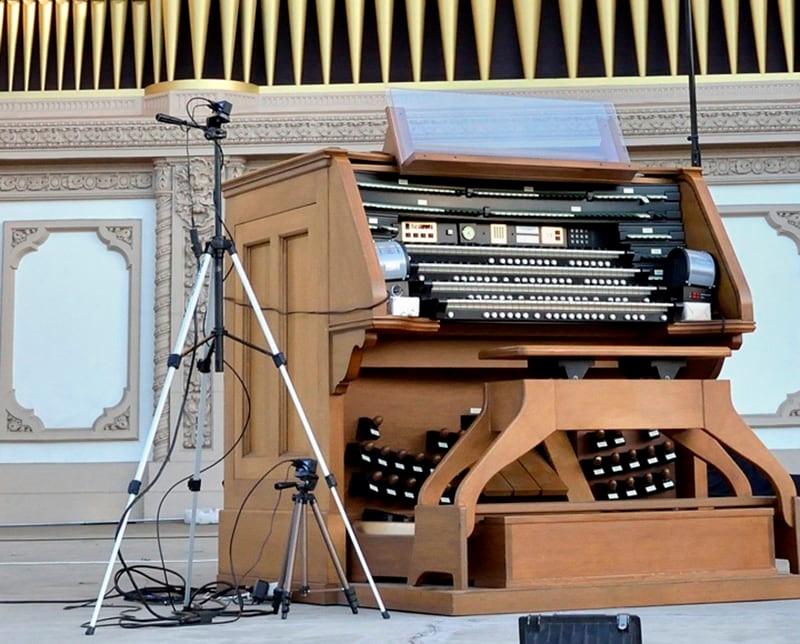 The Spreckels Organ
FD: How did you get involved?
GS: My love of organ music began at age six. My grandfather was an amateur organist and when we lived overseas in Turkey in 1960 to '63, our entertainment was restricted to Voice of America, BBC, and Radio Moscow. There was no TV in Turkey at the time. My grandfather recorded and mailed us organ concerts on a 5-inch reel-to-reel Magnecorder, and I became hooked. I also became hooked on the fun of the recording technology and by the time I was nine years old I was making [my own original] 'Squeaky the Squirrel' recordings for my younger brother and
two sisters in the same vein as 'Alvin and the Chipmunks.'
GS: To this day, a formative event for me was attending a concert of the Cincinnati Symphony as an 11-year-old while living on Okinawa. Hearing the power of a live symphony left a lasting impression. [Later], just after college, my wife worked with a small accounting firm. The senior partner was a benefactor of the Houston Symphony and had fifth-row center season tickets. He frequently and generously gave his tickets to my wife and I because he knew we loved live music, and also knew that on a new college graduate's pay it was unlikely we could afford many of the concerts ourselves.
When I moved to San Diego after graduate school in 1995, I learned about the Spreckels organ and began attending concerts presented by the then civic organist, Carol Williams. I loved the outdoor venue, but at the time didn't fully appreciate just how special the Spreckels Organ was.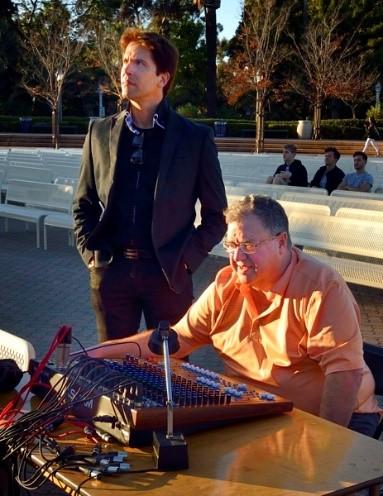 Organist Raúl Prieto Ramírez and Gordon Stanley
FD: There's history about the Spreckels Organ on Wikipedia and at spreckelsorgan.org But I'd like you to tell me from your perspective what makes this instrument so special.
GS: Over time, I learned that the organ was almost one of a kind. There used to be dozens and dozens of civic organs and organists throughout Europe and the United States, but as other forms of media became popular, these difficult-to-care-for, expensive instruments began to fade away. Today there is one part-time civic organist in Portland, Maine, and our full-time civic organist in San Diego. In the whole world, there are very few outdoor organs, because of the difficulties [presented by] the weather. In fact, I learned that [the original contractor] Austin Organs, Inc. had turned down the project twice before John Spreckels prevailed and convinced them to take the contract.
Personally, I like the idea of ​​sitting outside on a Sunday afternoon or Monday evening with my dogs and [having] a picnic, listening to beautiful music and not having to go through the dressing up, parking, and other hassles associated with a more formal trip downtown to the symphony. And when I see young families and especially young children getting turned on by the live music, I fall in love again with the foresight and purposefulness of John Spreckels' gift to the City of San Diego and the world. I would welcome anyone to visit one of the concerts on a warm summer afternoon and watch the people, especially the children, react to the power of live music.
FD: Why did John and Adolph Spreckels decide to donate an organ rather than something else?
GS: John Spreckels was an avid organist with a large pipe organ in his mansion in Coronado, CA, west of downtown San Diego. The Panama-California Exposition was in development and he had a vision to have a large outdoor organ that would bring quality live music to the people of San Diego and the world, and honor his brother and his family.
You have to remember [that] at that time, to hear music you had to go to church, buy an Edison phonograph with its wax cylinders which were rare and expensive, or have the wealth to hire and bring musicians to your home. The San Diego Symphony had just been founded in 1910 and, as now, attendance was prohibitively expensive for a typical family.
Here is a little aside. To buy tickets for a family of four, have a dinner out and park downtown can easily cost $350 to $400 today. So, the chances of families exposing their children to the power of live music are quite limited. Popular music concerts are often just as, if not more expensive. My last concert cost [us] $450. The Spreckels Organ Society offers live music concerts at no charge to everyone, because of generous contributions from the City of San Diego, and a wide range of donors and benefactors who want everyone to have an opportunity to be exposed to live music. Further expansion of the Spreckels dream includes a joint program between Balboa Park and the Spreckels Organ Society where we host live concerts for fifth-grade children. However, this program is currently on hiatus due to the COVID pandemic.
Finally, as part of the Panama-California Exposition planning committee [the Exposition took place between 1915 and 1917 – Ed.] , John Spreckels wanted to see a powerful centerpiece. Up until about 1930, the pipe organ was the most intricate, complex and grand creation of mankind ,utilizing the best of human skills in artistic design, woodworking and finishing, metal casting and working, mechanical and electrical ingenuity, and harmonic development and tuning, as well as musicianship. These [kinds of] grand expositions, such as was being planned, were popular at the time worldwide. A large pipe organ was routinely a major feature. The Trocadero in Paris, the Crystal Palace in London, and the 1904 St. Louis Exposition immediately come to mind as notable examples. The Spreckels Organ Pavilion, or Music Pavilion as it was originally named, and miraculously constructed in just eight months, became one of five permanent structures in the expo and on opening day hosted 60,000 people, filling the venue. At the time, the population of San Diego was about 75,000."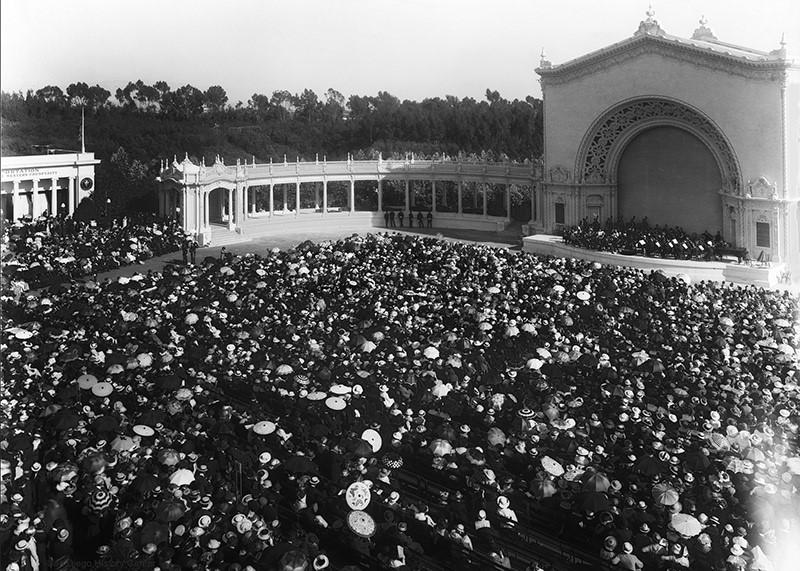 A record crowd of 60,000 attended the dedication of the Spreckels Organ and
opening of the Pan American Exposition in January, 1915.
. . . . .
Acknowledgments: Special thanks to Jean Samuels, 2019-2021 Society president; Dale Sorenson, curator; Mitch Beauchamp, trustee; and Robert E. Lange, photographer, who were instrumental in making this article and interview happen.
Continued in part 2.